Priority Plastics Gets Recognized as
Virox Technologies Inc. International
Vendor of the Year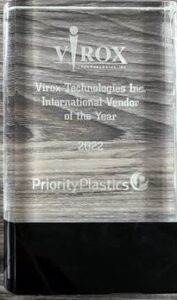 Working hard for our customers is expected – Ensuring quality standards are met. Getting out orders on time. Managing production and communications every step of the way. These are some of the basics of ensuring our customers are satisfied.
This all changed when the pandemic hit in 2020. Being identified as an essential function and continuing to manufacture the much needed canisters and containers needed for the wipes market, we stepped up our efforts to ensure we could meet the demands of our top customers providing sanitizing and disinfecting products to the world.
---
Critical Products Delivered to the World
Virox Technologies Inc. was one of our biggest customers and we quickly realized the investments and partnership needed to ensure we could deliver for them during this critical time. Virox produces over one million canisters of infection prevention wipes per month delivering to over 70 countries. Ratcheting up our operations and ensuring clear communications to problem solve and meet market demand was our highest priority.
"Priority Plastics continues to be a valued partner and provided invaluable support in 2020 where there were multiple complex challenges that all supply chain teams had to address. The immense support throughout their whole organization was pivotal in Virox's ability to respond to COVID-19, and their continued investment and strategic planning are ensuring that we are well positioned for the future. We look forward to the continuation of our great partnership and continued success through 2021 and beyond." ~Virox LinkedIn
---
We knew what we had to do help our partner deliver their products in a time of great need and to be recognized for our efforts and contributions is an honor.

Being a mid-sized company, we are nimble and able to shift quickly. Our facilities in Grinnell, Iowa and Portland, IN went into high gear, picking up production demand. Furthermore, to keep up with the necessary lid for each container, Priority Plastics also invested in two new lid molds ensuring ample supply. Realizing future demand was going to continue and to ensure more customers could receive the products they need, we further invested in high-speed wheel technology, and increased our canister capacity and equipment in our Denver facility to include the purchase of a new all-electric machine for further capacity. We continue to grow and expand into more industries and are excited about the opportunities ahead with leading partnerships like Virox.
---
We Invest in Your Priorities – PriorityONE.
This is what PriorityONE is all about. Identifying and addressing potential impediments to growth, efficiency and expansion that can keep our customers from meeting their goals. PriorityONE brings the expertise and quality of a packaging manufacturer dedicated to your company's growth strategy. These relationships allow PPI to focus exclusively on your packaging logistics. PriorityONE offers partnerships with key customers wanting to better manage their production through quality control, on-time delivery and total cost of ownership.
---
Pictured left to right: Nate Zimmerman, Director of Business Development, Krystal Smith, Operations Manager, Morgan Pryor, Plant Manager, and Scott Dowrey, President.