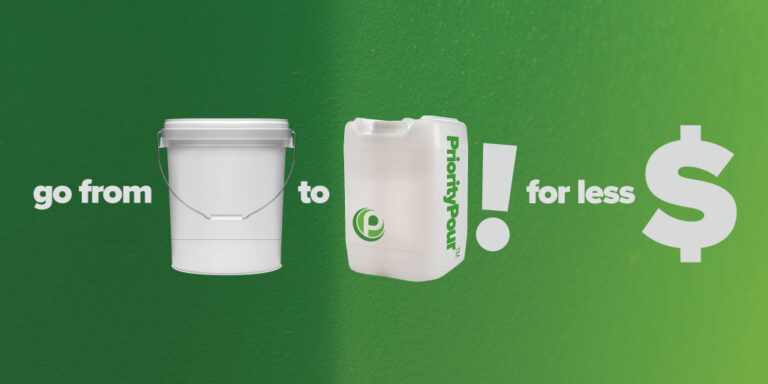 Learn more about how improving your packaging to tight heads can actually save you money and keep your products safer.
Download your free guide >>
As a leading producer of containers that meet U.S. DOT regulations for hazardous chemical storage, Priority Plastics knows that your company needs the finest storage and delivery containers to ensure that your products get to your end clients safely. Our products help companies across various industries guarantee their clientele and employees' safety as they distribute their quality products and promote their brand.
As an industry leader in the production of HDPE containers, we make everything from tubs and jars to hazardous chemical storage containers for industrial use. We have built our company through manufacturing facilities all across the United States, which allows us to easily deliver our products to small and large companies everywhere
Trust PriorityPour Tight Heads for Security
When your projects require top-quality chemical storage containers that meet U.S. DOT Regulations, you can always rely on Priority Plastics and the high-density polyethylene (HDPE) containers we produce. We always strive to meet our various clients' exact specs, which has helped us earn our place as a leader in this industry.
Our PriorityPour Tight Head container product line is popular for its narrow neck opening that is well-suited to many applications. This unique design is ideal for minimizing leakage of chemicals during shipping and handling and allows for controlled filling access and fast, easy pouring and transfer.
One of the best benefits of this style of container is that it nearly eliminates the possibility for "slopping" on fill lines and spilling valuable liquids. Many industries, including cleaning solutions, chemical manufacturing, building products, hydroponics, sanitation chemicals, janitorial supplies, and agrochemicals, find that these chemical storage containers ideally suit their needs.
Best Space Utilization
We also understand that space is a scarce commodity in your industrial facility. Our PriorityPour Tight Head containers help you maximize your space by using our interlocking top and bottom container design. With this feature, you can securely stack the chemical storage containers and maximize valuable space. Moving the containers is also easy with strong, durable integrated or swing handles that stand up to the wear and tear of handling and distribution.
Additionally, PriorityPour Tight Head chemical storage containers help assure efficiencies through our diverse product line that offers a wide range of shapes and sizes. PriorityPour containers also feature a smooth surface that is ideal for promoting your brand through eye-catching custom-designed graphics. Because safety is necessary, we also offer the option of tamper-evident closure combinations on your containers.
Safe Transportation and Storage
Containers that meet U.S. DOT regulations for hazardous chemical storage are our specialty because safety is our number one priority. Our on-site lab in our production facility ensures secure, dependable shipment, and storage of your hazardous chemical products. We also employ a battery of quality control tests to constantly improve our containers' quality, consistency and reliability.
In addition to meeting U.S. DOT regulations, our tight-head chemical storage containers meet 49CFR hazmat regulations and UN testing requirements for 4G, 3H1, and 1H1. When your company chooses our containers, you can feel secure knowing that they are the top-of-the-line airtight, leak-proof chemical storage containers on the market today.