PET for Snacks: Packaging Peace-of-mind
At Priority Plastics, we have made it our mission to build partnerships with clients that encourage success and help food clients achieve their goals. We help feature your products and show off sweet and salty snack brands.
We know that the snack industry covers a wide variety of food products that we all consume. At Priority Plastics, we are experienced in leveraging our tools and capabilities to deliver packaging solutions that protect the integrity of your snack products. We help present them to consumers with the best of first impressions.  Stand out at retail by using rigid clear PET containers; distinct packaging adds value and helps customers select your brand over the competition.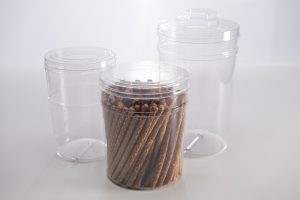 Packaging for success: Now available from ISBM technology
Packaging is a foundational part of how your brand makes it to market and how your customers store it. Your business also needs support services that can respond to your business' growth and demands with effective solutions that are cutting-edge.  As food manufacturers, you do not want inferior plastic packaging representing your brand name.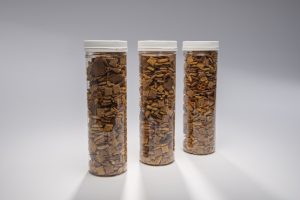 Popcorn
Peanuts
Candies
Beef (or other!) Jerkies
Trail mixes and variety snacks
Priority Plastics has structured our practices around the best ways to enhance our customer service for businesses like yours. We have coast-to-coast locations that enable us to offer lower freight costs, faster response times, dual sourcing, and in-plant customer service. We continually invest in new equipment and automation to advance our methods and stay on the leading edge of our industry
PET Snack Rounds Now Available in ISBM
Priority Plastics recently added state-of-the-art INJECTION STRETCH BLOW MOLDING machinery to our growing arsenal of advanced technology capabilities. The machinery allows us to:
Fabricate to a wider variety of custom tooling and specifications
Offer drastically larger and smaller shapes and sizes
Create competitive cost-savings
Compressed manufacturing and delivery timelines
Packaging authenticity creates superior brand interactions.
Your packaging speaks volumes about the quality and character of your brand. Creating positive brand interactions between your consumer packaging and your current and potential customers is a weighty responsibility.  At Priority Plastics we know your brand's integrity is always on display.  We help to create and maintain only positive impressions and memorable interactions for your packaged snacks.
Snack Packaging Makes A Big Impact.
Impulse buys and brand loyalty both contribute to the profits of a successful business. Consumer demand can vary widely just based on snack packaging materials. It is a cost-effective investment to take measures to ensure that your products are well-protected and have an engaging packaging design. Broken or damaged packaging will cost you in lost profits and the loss of trust in your brand quality. Priority Plastics designs snack food packaging to meet both of those needs.
No ripping or tearing during transportation
Fewer returns due to damaged goods
Varying shapes and sizes based upon consumer preference
Secure and re-sealable after opening – so, there's less product loss.
You will no longer have to worry about the potential negative impact of packaging leaks, breaks, or contamination. Our transparent PET containers are remarkably durable and sturdy enough to safeguard your products throughout distribution, transportation, and eventual shelf life. No more unreliable bags or boxes!
Once your product is on the shelf, customers will have a clear vision of your product as well. This engaging view will make your products stand out amongst the competition and display the confidence you have in the quality of your product.
Clear product displays
Reliable and sturdy stacking
Stand out by comparison
Longer product life – resealable and airtight containers.
Help you sell more products!
Experience has shown that across multiple industries, visibility plays a major role in sales and customer retention. We believe transparent business practices build trust and the same is true for the food and snacks industry.
Your Success Is Our Priority
With Priority Plastics, you will have a multi-faceted ally in any competitive market. Our containers showcase and protect your snack brands from the hazards of transportation and warehousing through the retail shelf lifecycle. Your products will be presented in high-clarity PET containers that let the intrinsic value of your products shine through.
We are here to support your business and products. By partnering with Priority Plastics, you will have the tools needed for building relationships with your retailers and your customers!