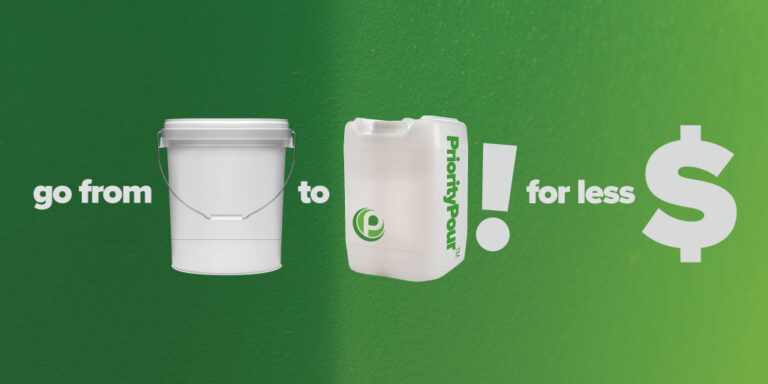 Learn more about how improving your packaging to tight heads can actually save you money and keep your products safer.
Download your free guide >>
Safety is our Highest Priority
If the business you're in involves storing and delivering hazardous chemicals, Priority Plastics knows exactly what you need.  Your storage and delivery containers need to be durable and strong enough to get your product to your clients safely.  Our products are ideal for hazardous chemicals and are coveted and in-demand across multiple industry segments. Specifically, our PriorityPour (HDPE) tight heads are among the best in the packaging industry.  These containers, like all our products help ensure customer and employee safety, as well as long term performance and reliability.
REQUEST MORE INFORMATION
Secure Storage Solutions
As a leader in the industry, Priority Plastics produces HDPE hazardous chemical containers in sizes and shapes of all kinds. Our industrial-use products such as hazardous chemical storage containers, however, are among the highest in demand. A majority of our clients choose our PriorityPour Tight Head container line that features a convenient narrow neck opening. The benefits of this design concept include minimized leakage in shipping and handling and limited opportunity for "slopping" on fill lines. Other areas in which these features benefit hazardous chemical storage include controlled filling access and quick, easy decanting. Used across multiple industries, our hazardous chemical storage containers are essential in safe storage of sanitation chemicals, janitorial supplies, agrochemicals, cleaning solutions, building products and chemical production.
Secure, Space-saving Solutions.
At Priority Plastic, we also understand that saving space is imperative in the industrial arena, so our PriorityPour Tight Head containers allow users to maximize space.  These versatile containers have unique interlocking top and bottom designs. This feature allows the user to stack and store hazardous chemical containers and know that they are safe and secure. Delivery of the containers is also facilitated by their design, as they are available with both swing and integrated handles.  Each design holds up to heavy use and are easy to grasp and hold. When you are moving the containers into storage, then into distribution vehicles, and more, this is essential. We know that every end-user has unique needs, so our containers come in an array of sizes and shapes. So, no matter your shipping and storage needs, your customers can make the most of their available space. Smooth container surfaces are ideal for brand promotion through custom-designed graphics that make your brand stand out.
U.N. Testing Lab
As an industrial manufacturer, Priority Plastics understands the importance of safety. Our PriorityPour Tight Head manufacturing facility has its own onsite U.N. testing lab that guarantees quality and consistency in our containers. This assures your hazardous chemical products are handled with the utmost of security during storage and shipment. Additionally, we offer optional tamper-evident closures to provide an added measure of safety and accountability. Remember: our quality standards are a priority. We test our products regularly to continue to improve our position as one of the top hazardous container suppliers in the industry. In addition to meeting UN testing requirements for 3H1, 1H1, and 4G, our tight-head containers meet 49CFR hazmat regulations. We have earned our place as a premier supplier of hazardous chemical storage products by focusing on our clientele's specific needs.
 When you need hazardous chemical containers you can rely on, you can count on Priority Plastics for the very best in leak-proof, airtight products for your business.