Priority Plastics tight head containers are built for the important responsibility of keeping the contents they carry secure, so those who handle them are able to safely and confidently focus on getting the job done. Tight head containers are the preferred packaging solution for a wide variety of industrial applications because of their tried and true durability and performance.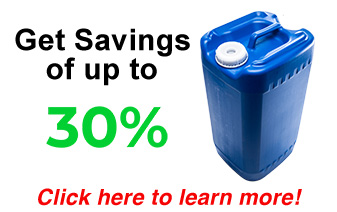 Industries trusting their goods to plastic tight head packaging include:
Food flavors and fragrances
Beverage concentrates
Janitorial
Sanitation
Specialty chemicals
Agricultural
Epoxies and adhesives
Lawn/Garden
Priority Plastics is a known leader in extrusion blow molding technology. Our PriorityPour Tight Head containers are manufactured using premium FDA-compliant, high-density polyethylene (or HDPE), known for being lightweight yet strong, malleable, extremely durable in almost any temperature, and recyclable. Its both impact and weather resistant, making it extremely versatile and customizable.
High Speed Tight Head Manufacturing: The Cyclone
We have recently completed a multi-million dollar expansion in our Portland, Indiana facility to significantly increase our output of sustainable, precision-molded PriorityPour Tight Heads.  Our New CYCLONE is now online and operational – helping us keep pace with our rapidly expanding marketplace throughout the US.
Read More about the CYCLONE.

At Priority Plastics, we take our commitment to sustainable manufacturing very seriously. Central to sustainability goals are reducing carbon omissions and lessening environmental impact.
Attention to detail goes into all our plastic packaging solutions.
Our heightened focus on the customer extends to the design of our containers and the details of their construction. With our tight head containers, the narrow neck opening serves multiple purposes. It provides controlled access for filling, little opportunity for 'slopping' on fill lines, quick and easy decanting, and minimizes leakage during shipping and handling. The top and bottom interlocking designs securely stack for optimized space utilization and storage. Integrated or swing handle options offer exceptional strength and portability, and customizable decoration options, like sleeve labels and pressure-sensitive labeling, are available.
Looking for an edge in sustainability, check out our PriorityPour Eco line of tight heads. These innovative products are manufactured using leading-edge, high-speed continuous-extrusion technology, the first of its kind in North America, and incorporate multi-layer capability using closed-loop or post-consumer regrind. These environmentally sensible products have the same durability and integrity as our standard containers, and help Priority Plastics achieve our continuous-improvement goals to reduce our overall environmental impact.
Delivering the best quality product to support your company's brand and reputation.
We hold ourselves to extremely high-quality standards through our rigorous Quality Management System (QMS) based on ISO 9001 certification. All tight head production is managed and documented through state-of-the-art data collection to ensure consistently reliable and durable products, and provide for full analysis of non-conformances, corrective actions and cost of quality.
No detail goes unnoticed. We take performance seriously and make sure our containers are consistently monitored through three-tiered inline quality inspection checks and offline performance testing to certify dimensional accuracy and consistency. All incoming raw materials are inspected, tested and certified to make certain that what we use to make your containers meets every high quality standard and specification.
Our packaging is food safe. PriorityPour tight heads meet cGMP (Current Good Manufacturing Practice) regulations enforced by the FDA. The raw materials used in our containers are BPA free and meet FDA standards for food.
We offer the following PriorityPour tight head products:
PriorityPour Rectangle
PriorityPour Round
PriorityPour Mini
PriorityPour FortPack
PriorityPour Eco
Areas of Applications
UN Certification: Transportation Safety –Industrial Packaging
We take transportation safety seriously at Priority Plastics. Our facilities have an onsite DOT-accredited lab to ensure secure, dependable shipment and storage of hazardous products. Our equipment and trained technicians routinely perform a full battery of tests: Hydro static, impact resistant drop, static compression at elevated temperatures, and vibration.
PriorityPour Tight Heads meet 49CFR hazmat regulations and UN-testing requirements for 3H1 (Jerry Can/Rectangular), 1H1 (Round), and 4G (Combination Packaging—Fort Packs/Bottle in a box.
Rest easy knowing PriorityPour Tight Head containers are air tight, leak proof and ready to ship your valuable product with peace of mind.
Going a step further to protect the integrity of your products, fluorinated HDPE is available, providing a barrier against chemicals that might otherwise alter the properties of the plastic container.
Our focus at Priority Plastics is to help our clients achieve their business goals. We embrace this responsibility, designing and manufacturing products that support your success. You can count on our industry-leading processes and our unwavering commitment to regulatory compliance, along with innovative and dynamic packaging solutions.