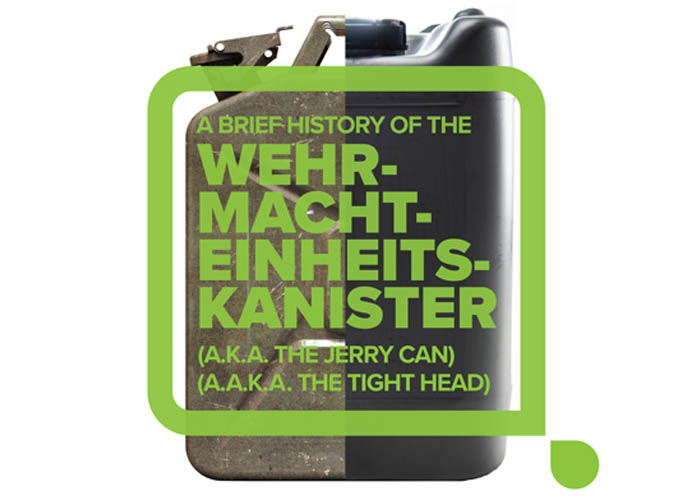 It's time to can the jerry cans for good. Tight heads are made for today—and the future.
It's not uncommon for us to receive customer requests for "jerry cans" (aka Jeep cans or blitz cans), containers that were first introduced to the world some 90 years ago. Some of our more experienced customers remember these well while others are just unsure of what to call our large containers. Truth be told, although our modern PriorityPour® Tight Head containers were inspired by the original and highly successful jerry can design—these more modern variations are lighter, cheaper and more durable than jerry cans. They're just as easy to open, close and carry and even easier to love. In these, the originally superior jerry can steel containers with the welded seams are now vastly improved, retaining what worked well and improved with more modern manufacturing techniques and materials.
Although we owe some of our success to jerry cans and their initial breakthrough designs (more on this later), we work hard to design, manufacture and improve upon the original concept. This has led us to our PriorityPour Tight Heads. Tight heads have become the undisputed champion of packaging solutions, thanks to their superior durability and performance. We test ours. We test them again. We keep on testing our tight heads to ensure they will be the most reliable selections for shipping and storing.
Many industries entrust their goods to plastic tight head packaging, including:
Food flavors and fragrances
Beverage concentrates
Janitorial supplies
Sanitation supplies
Specialty chemicals
Agricultural goods
Epoxies and adhesives
Lawn/garden products
Jerry can containers originally made history—but now should be history.
Let's set the time machine for 1937 and take a voyage across the Atlantic.
As war in Europe became more and more imminent, the United States started exporting more petroleum products than all other war materials combined. Oceangoing tankers, along with pipelines, railroad tank cars and trucks, served as the crux of the gigantic oil and gas transportation network to prepare for various missions. The last mile, combat vehicles, however, were a different story. For the battle zone, smaller containers were needed to be carried, poured by hand and moved around—all by trucks, something the Allies were oblivious to but the Germans picked up on right away. German forces started the process of designing jerry cans to hold up to 20 liters for all kinds of different military uses (fun fact: the name Jerry is actually slang for German soldiers).
Officially, the Wehrmacht-Einheitskanister (now you understand why the nickname stuck) was first designed by the Müller engineering firm in Schweim by chief engineer Vinzenz Grünvogel. The goal of the Wehrmacht design was so that soldiers could carry either two full containers or four empty ones. Another innovation had these containers fitted with a large spout and a flip-top closure to achieve faster filling and draining; this limited leaks and avoided the loss of the cap. A hole in the flip-top closing mechanism made pouring easier/faster, and these were made even more durable by welding two halves together. This welded seam was superior to cheaper rolled seams that were not as reliable as the welded (the Allies would soon learn this lesson when they tried to later replicate the design). The jerry can design was innovative back then but would be considered rudimentary by our higher standards today. However, the cans' rectangular shape, which made these containers amazingly easy to stack, is as useful today as it was back then.
By 1939, the German military had thousands of these jerry cans stockpiled and ready for rapid advancement as the Second World War commenced.
Eventually, this secret weapon of Germany found its way into the hands of an American engineer, named Paul Pleiss, who happened to be wrapping up a manufacturing job in Berlin and caught wind of the containers. Allies tried to implement their own version with grand plans to use such containers to store and transport fuel. Early explorations, unfortunately, yielded poor redesigns with bad caps that required wrenches and funnels to dispense liquids. With the waste caused by glugging and the use of the cheaper rolled seams (that leaked), these early design flaws wasted as much as a third of the fuel. These containers were deemed completely unacceptable and unsafe to store gasoline and thus failed to gain widespread acceptance. Soon after, British forces abandoned this poor design and began developing a copycat that produced some value (emphasis on the word "some"). By the time World War II ended, it was estimated that more than 21 million units were manufactured to support the Allies during the European theater of operations.
Today, similar designs are still in use worldwide for pretty much the same purposes. It's still the standard go-to for fuel and other liquids by armies in countries that are part of NATO. Nowadays the original steel is considered obsolete as it has been replaced by the far more effective and efficient high-density polyethylene. As we well know: HDPE is lighter, more forgiving to bumps and bruises than steel and still doesn't require all the additional effort (welding, stamping, manufacturing, internal coatings) that the original cans needed to be as successful as they were.
Jerry cans were made to be a strategic solution—just like our tight heads today.
For quite some time, Priority Plastics has been recognized as a leader in extrusion blow molding technology. Our PriorityPour Tight Head containers are manufactured using premium FDA-compliant high-density polyethylene (better known as HDPE). As a result, they're stronger and extremely durable in almost any temperature yet surprisingly more lightweight than their jerry can inspiration. They're as versatile, more customizable, cheaper, faster to manufacture and even easier to transport.
And we keep building on that history of improving on the original design. For example, in order to better mass-produce our prized tight heads, Priority Plastics invested in a multimillion-dollar expansion in our Portland, Indiana, facility. We launched a new high-speed tight head machine we call the Cyclone. This breakthrough technology features high-speed, four-cavity shuttle technology, granting us the opportunity to offset freight costs and give customers a competitive edge.
Just look at all we have to offer.
PriorityPour Eco – sustainable solutions
White and natural/stock – custom colors available
5 gal. and 20L
Rectangle
Integrated handle
61 mm, 63 mm, 70 mm (TE)
No vent, 22 mm open and closed
Most containers are UN/DOT-approved for Y and Z regulations without the use of an outer pack carton.
Not only do our tight heads provide more efficiency, our facilities do as well. With three manufacturing houses centrally and strategically positioned all across the United States, Priority Plastics offers design and engineering services, technical sales support, operational excellence and plant-specific customer service representatives. It's an advantage that gives our customers great value, thanks to lower freight costs, preventing and minimizing manufacturing redundancies, increased responsiveness and dedicated customer service support.

We manufacture our tight heads in Portland, Indiana where we've invested five million dollars in the fastest, four-shuttle tight head manufacturing technology in North America. Now you have access to a more sustainable, multi-layer container (incorporating up to 80% recyclable material enveloped inside layers of virgin plastics) increasing your packaging sustainability without compromising your packaging quality. This faster manufacturing accommodates more demanding turnaround times, offsets freight costs and helps make your packaging more cost-competitive. That gives you more alternatives in U.N.-rated packaging than before.

Our investment in our Cyclone technology is just one reason Manufacturing Technology Insights awarded us a Top Manufacturing Solution Provider in 2021.

But that's only one way we've invested in plastic progress. To date, we've invested over $25 million in people, technology and tooling to deliver the latest technology solutions that solve pressing packaging problems – Creating Inventory Now. We've put in the work to better support your needs.

So hopefully one day the historical jerry cans will in fact become history. We do recognize them as an important step in our mission to develop, and provide, superior products for the 21st century. Do yourself and your customers a favor by embracing Priority Plastics Tight Heads for all of your needs.