Not getting the full-service attention you desire? The full-service attention you deserve?
If you need smaller container quantities, it's likely not a question you're expecting from your packaging supplier.
Intrigued? Keep reading…
Many startups and small companies have difficulty finding a supplier for their packaging needs. Why? Smaller container quantities are usually the culprit: Too low to be considered. It might feel like you have to make an extra effort just to get
pricing, availability, shipping, delivery notifications or order status—all so you can keep your inventory moving. Whether you're hard at work innovating in the baked goods, snack, pet treat, novelty or hardware industry, you need a supplier that can meet your needs. A supplier that can meet your product requirements. You need a supplier willing to put your business first.
Unfortunately, many of us don't meet the capacity requirements the big players look for to deliver that level of service. The containers you need simply may be too low in quantity to warrant their best customer service.
Their best service. Not ours.
Lower container quantities are our sweet spot
Priority Plastics can solve your supply issues as well as your service issues. Lower quantities are our sweet spot for production of clear plastic PET containers, and our equipment is ideally suited to meet the demands of companies just like yours.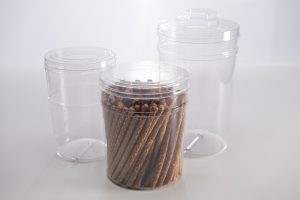 We also stock 300+ molds in many different shapes, sizes and configurations. Hexagons, flattened globes, small squares, rounds and even specialty holiday shapes, to name just a few. Even if your unique brand demands equally unique packaging, we can create custom shapes at a surprisingly reasonable cost.
AND we'll label it all for you. A single-source solution from start to finish, for a complete package.
Priority Plastics can solve your supply issues
Stop settling for less—you now have a better choice. Priority Plastics. We're small enough to be nimble but big enough to be efficient, and we'll keep our focus on what's important—you and your business.