Make the Switch – and, SAVE.
Convert Sales from U.N. – rated Open Head Pails to Tight Heads.
Innovative and cost-conscious US manufacturers are seeing the savings, reaping the benefits and making the switch to PriorityPour tight heads.  They are switching plastic or steel open head pails in favor of a more innovative and advanced shipping and storage solution. Leave the "old-school" packaging standards in the past – and, embrace a whole new standard of style, performance and sustainability.
PriorityPour tight heads offer so much more –
More Stackable.  You get more outbound product per pallet when your product is in transit to your customer.  There's an overall savings on containers when you factor in the TOTAl cost of in-bound and outbound freight. Plus, our end-users can store more product in more limited space conditions.
More Secure. While in transit, on the fill-line and once delivered to your customers – PriorityPour tight heads are more secure than open heads. They stand up to more adverse conditions. They fare better in drop testing, hydrostatic pressure testing, top-load testing and leak-proofness testing.
More Sustainable.  Our multi-layer technology uses closed-loop or post-consumer regrind. This core layer of up to 80% recycled materials is encapsulated between two layers of 100% virgin resin, This product helps Priority Plastics achieve our sustainability goals for our company  – and, the sustainability goals of our clients as well.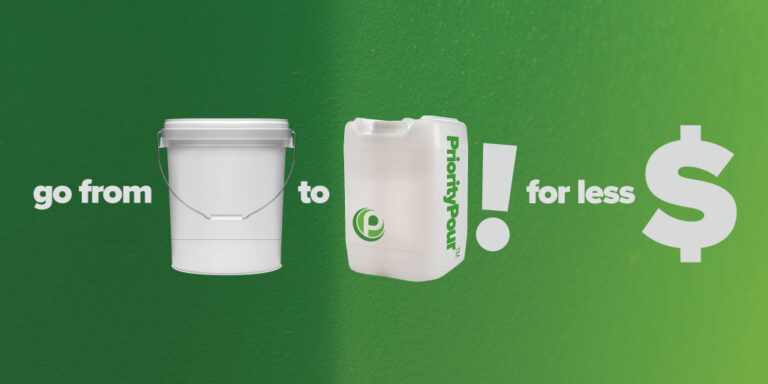 More product per pallet
The long term savings are found in the simple math of outbound shipments; you can ship up to 48 outbound tight heads per pallet.  With standard open head pails, you are limited to shipping only 36 filled units.
Every outbound truckload carries more product to your customers!
The savings add up tremendously.  Plus, your customers' satisfaction is much greater with tight heads over open head pails.  It makes a statement on the value of your product when it's presented in the finest and most-durable container in the marketplace today.
Find out what it takes to MAKE THE SWITCH from inefficient open head pails to PriorityPour tight heads.
Value
Reliability
Savings
Remember – In the real world, PrioroityPour tight heads withstand accidents and abuse better than plastic or steel open head containers. We prove it everyday in our in-house testing facilities. They are tested for DOT compliance, too.